Most people acknowledge the need to create a website, in order to promote their products or services. If you are here reading this article, chances are you do too. Many business owners go on and create a site that looks amazing and works perfectly in their eyes. Then what? How do you know if visitors can find your site and whether you are reaching the right audience that matches your basic customer profile? What are they doing while they are on your site and how much time are they spending on it? Are they facing any problems? But most importantly… How can a website's metrics help you with your overall marketing strategy? The answer to these questions comes from the Google Analytics tool.
What is Google Analytics?
Google Analytics is a great, free tool that allows you to view metrics and stats about your website and how visitors interact with it. You can get daily, weekly or monthly reports with specific numbers to track your website's progress and understand better your customers' profile. It allows you to see what your visitors are looking for, what they are more interested in and if users are dealing with any problems. This way you can always improve your website, create a better user experience, reach the right audience, achieve your goals and build a better overall digital marketing strategy.
The top 6 metrics of Google Analytics and how to implement them into your general digital marketing strategy:
New, Unique and Returning Visitors

Sources of Incoming Traffic

Behavior Reports

Conversion Rate

Demographics

Bounce Rate
New, Unique and Returning Visitors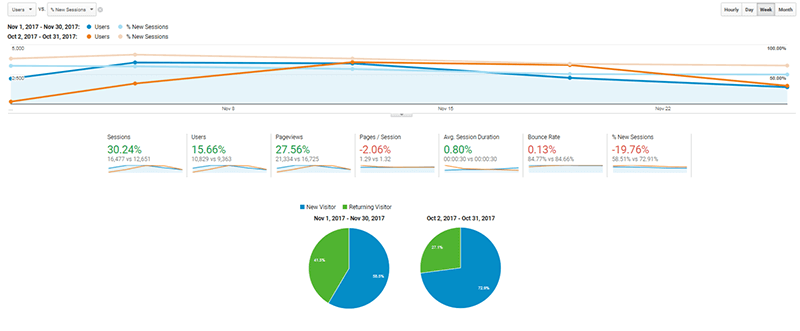 Visitors is the first thing you are going to care about once you create your website. Without visitors you can't reach your goals. You need to build a steady stream of new visitors in the beginning with the long run goal of turning them into customers. With the analytics tools you can spot the unique visitors you get and keep in mind that this is probably the most valuable data concerning the daily visitors to your site. You want to get as many relevant unique visitors daily as possible.
Sources of Incoming Traffic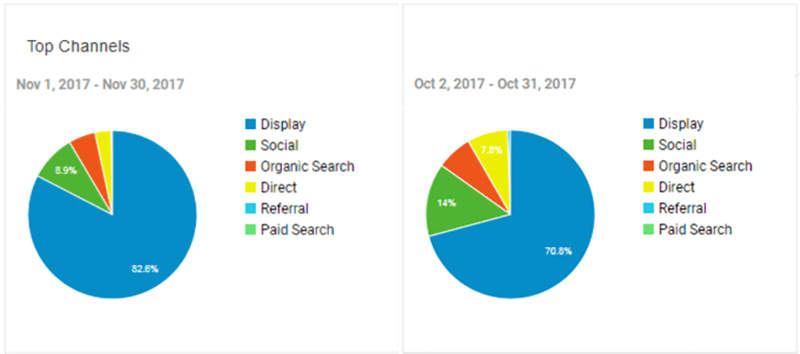 Ideally, your website will have incoming traffic streaming in from a variety of sources. There are three categories for the primary sources: direct, search and referral visitors.
Your

direct visitors

are those who are typing in your exact URL into the address bar in their browser or have you bookmarked.

Your

search visitors

are those who will arrive at your website based on a search query that will match your website's category and they will spot your site in Google's or other search engines results.

Your referral visitors are those who will get to your website by following an inbound link. These can be on another website or from 

social media

.
All three of the sources are very important, but they have different levels of conversion. By calculating how much traffic each individual source is converting, gives you the ability take action by implementing these metrics into your digital marketing strategy. For instance you can increase the budget on your most highly converting source or even leave a platform in it's not working for your brand.  
Behaviour Reports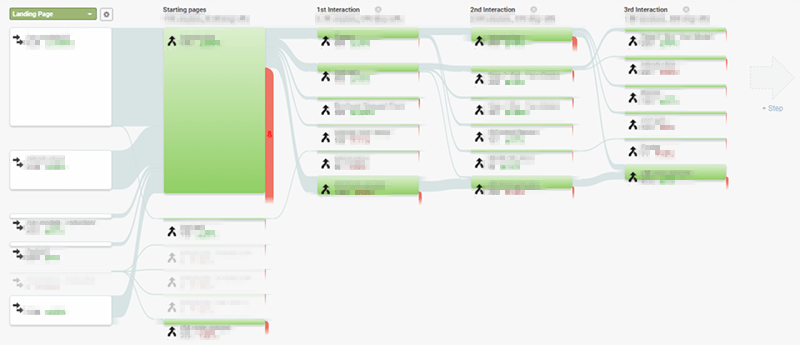 Sources of your website traffic are good to know and useful in many cases. This has to do mainly with your digital marketing strategy.
But understanding the way visitors flow through your site and navigate your sales funnels can give you valuable insights on what your visitors want to see and when they want to see it. A better more efficient user experience will increase your conversions. Google Analytics gives us the ability to investigate the behaviour of the visitors. Here is where you can see the exact path that your visitors are taking, what actions they take and at which point they are leaving your site.
With our team's expertise and experience we can lead you to a user friendly design to minimize conversion loses.
Conversion Rate

Conversion rate is the percentage of users who take a desired action. The archetypical example of a conversion rate is the percentage of website visitors who buy something on the site. However, conversions can also be set up for website usage such as time spent on site or pages viewed.
Google Analytics can help you identify and remove stumbling blocks in your conversion process and help you make it simple for people to buy, subscribe or download your content. You can also spot how many returning and new conversions you are getting.
Tracking your conversion rate, especially for returning customers, gives you the ability to build a great customer digital marketing strategy. For example you can give offers, build targeted email campaigns which will promote specific products to your customers based on their previous purchases or push sales on products visitors have seen but did not buy.
Demographics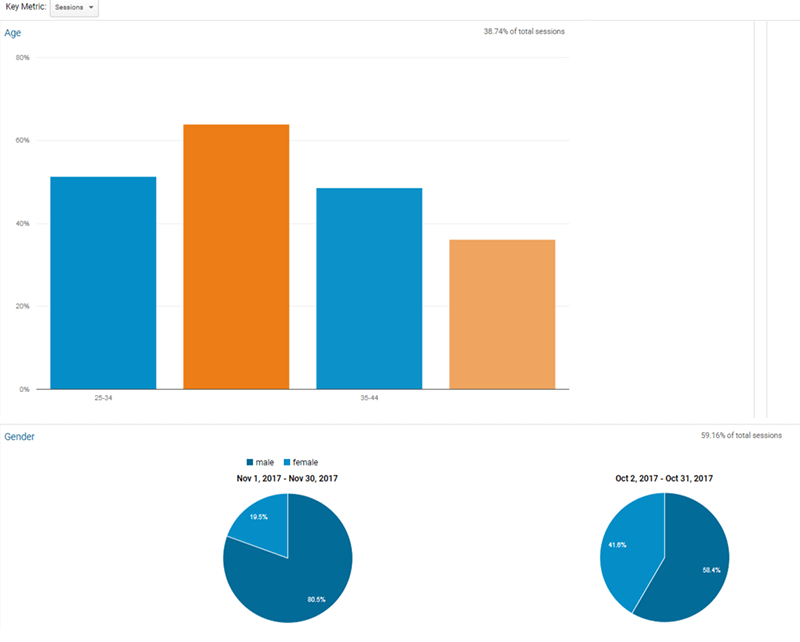 Google Analytics allows you to see the age, gender, location of visitors and even the device which people are using to reach your site. This is one of the most helpful insights you can get. If you are new to the business you can stop assuming who is your potential customer and see exactly who your target audience is, where they live or which device they are using. This gives you great power and will definitely help you build a better digital marketing strategy.
This way advertising on Google and Social Media can be more accurate since we have the right tools and knowledge to target specific gender, ages, interests and behaviors.
Bounce Rate
The bounce rate metric is the amount of times users visit the site and then leave it without visiting any additional pages. The preliminary goal of any digital marketing effort is to increase the value per visit by minimizing the bounce rate.
A high bounce rate could be the result of a poor website design, bad usability or slow load times. E-commerce websites will sometimes refer to bounce rates as abandonment rates. This can be the result of a checkout process that is too complicated, deals that are expired or irrelevant or forced cart additions (you must add the item to your cart in order to see the actual price of the item).
Blogs will often see high bounce rates. This is because visitors will tend to only stay on the blog website in order to read one single post and then they will move on.
Through our guidance we can help you build a user friendly website or locate the problem with an existing site that has a high bounce rate. In addition with a proper advertising campaign, targeting and sending the right audience to your site we can increase the number of relevant visitors that will spend more time on your site and therefore increase the time they are spending on your site.
How can Google Analytics help you build a better digital marketing strategy?
Well, now you know all the basic information about how you can measure your website success! Who is interested in your product or services, where they live, which are your main traffic sources, how much time they are spending on your site, how many of them are loyal fans or new visitors, favorite products/pages and so on.
If you feel that you need to take it to the next level, our team is certified with the Google Analytics Certification and is ready to help you better understand what is happening to your websites and reach your goals.
Want to know more? Give us a call at 7000 2665 or email us at [email protected]