We have successfully been involved in the makeover of a multitude of websites, mostly utilizing the WordPress CMS. We see it as our mission to lead our customers on the path of digital success. Let us help you in giving your website a facelift and enhance its importance in your marketing strategy.
They say the only constant is change. Your website is no exception to this rule. Leave your online presence stagnant and you will see your competitors wow your customers with new features and better presentations.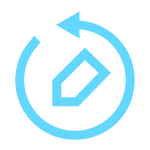 BENEFITS OF A

WEBSITE REDESIGN
Freshening up your content is always a good idea. Communicate to the customer the benefits of working with you in a manner that fits today's world.
Older websites are plagued by not being very responsive to the multitude of smaller screen sizes found on mobile devices. Fixing these issues makes your content more visually appealing to your visitors.
Appearing on search engine's results pages is a moving target. Making sure your site is technically sound and search engine friendly should be your priority. After all, most new business to your site probably involves a Google search.
With attention spans getting shorter, a faster website is essential. Shrink the size of the content you want and use speed enhancing technologies to deliver to users an improved browsing experience on your site.
Selling online has never been easier. From lead generation to eShop addition, your sales can take off with the right website changes.
Check out some of our redesign work. And do not forget; your website transformation is just a click away!